Aluminum Extrusion Profile for Trailer Manufacturing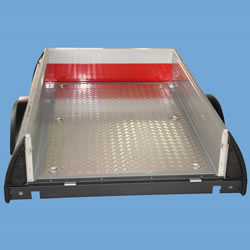 This picture showed here is just for the purpose of reflecting our production capacity on the product that is designed by our customer and is not for sale.

Specifications
| | |
| --- | --- |
| Item | Aluminum Extrusion Profile with Finished Machining for Trailer |
| Material | Alloy 6063, 6061 or according to customer' s choice |
| Temper | T3, T4, T5, T6, T66 |
| Surface | Anodizing (clear, satin, bronze, black, golden, silver, other multicolor) , electrophoresis coating, powder coating, PVDF coating, wood grain painting, etc. |
| Profile type | Industrial aluminum profile used for cars, trains and trailers manufacturing, and used in electronics, medicine and other industrial fields. |
| Processing | Extruding, precise cutting, straightening, bending, drilling, tapping, stamping, pulling, CNC milling and CNC lathing. For precious machining and cutting, length tolerance can be 0.2mm and hole tolerance can be 0.05mm. |
| Molding | 1. Using our moulds for free; 2. Using customer's drawing and opening moulds that are not for free. |
| Certificates | ISO14001: 2004, ISO9001:2000 |
| Standard | Meet China national standard GB/T6892-2006, Europe standard EN12020-1, 2(2001) and American standard AAMA611-98. |
| MOQ | 1 ton. Usually 12 tons for a 20 feet container and 24 tons for a 40 feet container. |
| FOB Port | Shanghai, etc. |
Applications
The industrial aluminum extrusion profile, also called aluminum extrusions or aluminum section, is widely used for various types of trailer superstructures and chassis parts. In addition, the extruded aluminum can also used in electronics, medicine and other industries.
Features
1. The aluminum extrusion profile is an excellent material for smooth and subtle edges
2. Elegant appearance
3. Anodized or electrostatic powder coated surface
4. Customized surface finishes are available
Competitive Advantages
1. For this aluminum extrusion profile for trailer manufacturing, we provide perfect engineering design and support.
2. The aluminum profile experiences deep processing including cutting, punching, drilling, milling and fabricating.
3. Owing to our strict quality control system, the structural aluminum will undergo rigorous IQC, IPQC and FQC.
4. The aluminum product is guaranteed with great performance for as long as 15 years.
Primary Technical Data
1. Chemical Composition
| | | | | | | | | | | |
| --- | --- | --- | --- | --- | --- | --- | --- | --- | --- | --- |
| Alloy | Si | Fe | Cu | Mn | Mg | Cr | Zn | Ti | Impurity | Al |
| 6063 | 0.2-0.6 | 0.35 | 0.1 | 0.1 | 0.45-0.9 | 0.1 | 0.1 | 0.1 | 0.15 | Rest |
| 6061 | 0.4-0.8 | 0.7 | 0.15-0.4 | 0.15 | 0.8-1.2 | 0.04-0.35 | 0.25 | 0.15 | 0.15 | Rest |
| 6060 | 0.3-0.6 | 0.1-0.3 | 0.1 | 0.1 | 0.35-0.6 | - | 0.15 | 0.1 | 0.15 | Rest |
| 6005 | 0.6-0.9 | 0.35 | 0.1 | 0.1 | 0.40-0.6 | 0.1 | 0.1 | 0.1 | 0.15 | Rest |
2. Mechanical Property
Alloy
Temper
Tensile strength
Yield strength
Elongation
6063
T5
≥ 160Mpa
≥ 110Mpa
≥ 8%
T6
≥ 205Mpa
≥ 180Mpa
≥ 8%
6061
T6
≥ 265Mpa
≥ 245Mpa
≥ 8%