Aluminum Extrusion Profile for Heatsink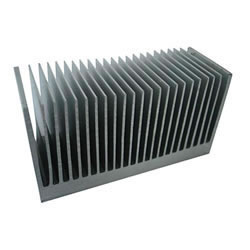 Competitive Advantage
1.This aluminum extraction profile for heatsink offers excellent engineering design and technical support.
2. With the deep processing, it will be cut, punched, drilled, milled and then fabricated into the finished product. 3. Due to the high quality control system, the product undergoes rigorous inspection in the production, as well as the entire detection prior to the package.
4. It is guaranteed on the excellent performance for as long as 15 years.
Specifications
| | |
| --- | --- |
| Profile type | The aluminum extrusion profile for heatsink with CNC machining is used in medical equipment, LED heat sink, CPU cooler, LED Lamp, LED light, notebook cooler and some other fields. |
| Material | Alloy 6063, 6061 materials for smooth and subtle edges, can be customized. |
| Temper | T3, T4, T5, T6 |
| Surface | Elegant appearance, anodized (clear, satin, bronze, black, golden, silver, other multicolor), electrostatic powder coated, PVDF coated, wood grain painted and other surface finishes can be customized. |
| Processing | Aluminum profile extruding, precise cutting, straight rectification, bending, drilling, tapping, stamping, pulling, CNC milling, processing of CNC lathe. For accurate machining and cutting, the length tolerance can be 0.2mm and the hole tolerance can be 0.05 mm. |
| Molding | 1. Our free moulds can be used. 2. The mould can be made according to customer's drawing, yet the mould fee needs to be paid. |
| Certificate | ISO14001: 2004, ISO9001: 2000 |
| Standard | Chinese national standard GB/T6892-2006, European standard EN12020-1, 2 (2001) and American standard AAMA611-98 |
| MOQ | 1 ton. Usually 12 tons for a container of 20 feet, 24 tons for a container of 40 feet. |
| FOB port | Shanghai, etc. |
Application
The aluminum extraction profile is commonly applied in the constructions and other industries covering the automobile, train machinery, electronics, medicine, radiator, fitness machinery, lighting instrument, windpipes, oil pipelines and so on. The aluminum frame is often perceived as the auxiliary material in the fields of hardware, machinery, electromechanical parts, solar PV product, etc.
Primary Technical Data
1.Chemical Composition
| | | | | | | | | | | |
| --- | --- | --- | --- | --- | --- | --- | --- | --- | --- | --- |
| Alloy | Si | Fe | Cu | Mn | Mg | Cr | Zn | Ti | Impurity | Al |
| 6063 | 0.2-0.6 | 0.35 | 0.1 | 0.1 | 0.45-0.9 | 0.1 | 0.1 | 0.1 | 0.15 | Rest |
| 6061 | 0.4-0.8 | 0.7 | 0.15-0.4 | 0.15 | 0.8-1.2 | 0.04-0.35 | 0.25 | 0.15 | 0.15 | Rest |
| 6060 | 0.3-0.6 | 0.1-0.3 | 0.1 | 0.1 | 0.35-0.6 | - | 0.15 | 0.1 | 0.15 | Rest |
| 6005 | 0.6-0.9 | 0.35 | 0.1 | 0.1 | 0.40-0.6 | 0.1 | 0.1 | 0.1 | 0.15 | Rest |
2. Mechanical Property
Alloy
Temper
Tensile strength
Yield strength
Elongation
6063
T5
≥ 160Mpa
≥ 110Mpa
≥ 8%
T6
≥ 205Mpa
≥ 180Mpa
≥ 8%
6061
T6
≥ 265Mpa
≥ 245Mpa
≥ 8%