Solar Roof Mounting Fixture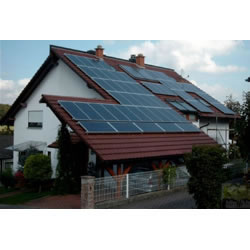 Hentec solar roof mounting system refers to a solar panel mounting system suitable for both flat roofs and sloping roofs. With unique aluminum alloy rails, Z-type clamps, and special rail connection techniques, etc., there is no need for on-site processing anymore. Thus, solar panel installation becomes simple and easy.
To suit needs for different types of roofs, Hentec solar roof mounting system comes with different kinds of hooks. For instance, we have stainless steel hooks for tile roofs, L-type hooks for steel plate roofs, and inclined standing legs for flat roofs.
Features
1. Hentec solar roof mounting system is convenient and easy to use.
2. Its components come with flexible combination and good compatibility.
3. Large span.
4. According to customers' demands, the mounting bracket can parallel to the roof or form an angle between the roof.
5. We can provide customized solar roof mounting system according to customers' requirements.
Technical Specifications
Material: 6005-T5 .aluminum alloy
Surface treatment methods: silver anodized
Installation site: flat or sloping roofs.
Roof material: tile in majority
Installation angle: max. 60°
Installation height: max. 20m
Wind resistance: 60m/s
Snow load: 1.4KN/m2
Solar panel type: frameless or framed
Assembly method: longitudinal or lateral
Solar panel size: The solar roof mounting system is suitable for all types of solar panel.
International standard: AS/NZS 1170, and more.
Supporting rails: aluminum alloy extrusions
Color: natural color
Warranty: 10 years