Aluminum Solar Panel Frame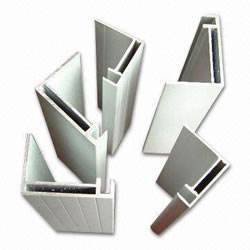 Hentec Company is an ISO9001 certified aluminum solar panel frame manufacturer in China. We have over ten years of experience in the field and can offer our quality aluminum solar frame at economical prices.
As shown in the pictures, our aluminum solar panel frame comes in various shapes and sizes, to accommodate your different applications. Our aluminum solar frame adopts L connector or screw joint, resulting in well fixed structure with great durability.

Description:
Aluminum Extrusion Solar Panel Frame
The aluminum extrusion solar panel frame is used to house and protect solar panels. Our aluminum frames use an L connector or screw joint, resulting in a stable, fixed structure that is durable and reliable. These products are high quality and are extremely economical.
Features:
A) Specification:
1. The 30*25mm solar panel frame is used for 30-120W solar cell modules.
2. The 50*35mm solar panel frame is designed for 160-220W solar cell modules.
3. The 35*35mm solar panel frame is suitable for 80-180W solar cell modules.
Custom made solar panel frames are available, including 46*40mm, 46*50mm sizes.
B). Two types:
1) 90-angle
2) 45-angle

C). Surface Treatment:
1. Oxidation (natural color, silver, golden, bronze, black, etc)
2. Electrophoresis coating.
3. Powder coating.
4. PVDF
Standard:
Q/320281PDW01-2008
Specifications:

Item
Aluminum Extrusion Solar Panel Frame
Material
Alloy 6063, 6061, 6005, 6060 Custom made available.
Temper
T3, T4, T5, T6,T66
Surface Treatment
Anodization (clear, satin, bronze, black, golden, silver, other multicolor) , electrophoresis, powder coating, PVDF coating, wood grain painting, etc.
Color
Natural color, silver, golden, bronze, black, etc
MOQ
One ton. Usually 12 tons for a 20 feet container; 24 tons for a 40 feet container.
Application
It is used as solar cell module frame.
Fabrication
1. Extrusion
2. Oxidization
3. finish cutting
4.Paunching5.taping6.Installation
Mould
1. Our existing moulds are free ;
2. Custom made moulds should be paid.
Mould size
25*25mm, 35*35mm,30*46mm, 46*50mm, 30*25mm, 40*40mm ,50*35mm. We can provide customized aluminum solar panel frames according to your specific requirements.
FOB Port
Shanghai, Shenzhen, Ningbo, etc.
Competitive Advantage:
In addition to our high quality products, we offer complete customer service. Our aluminum solar frame comes with a 15 year warranty. Maintenance service is also available.
Specifications of Solar
Today, our aluminium products are well received in the USA, Germany, Russia, France, South Africa, Argentina, Brazil, and other countries. We look forward to expanding our business to even more international markets. If you are in need of any of our products, whether aluminum solar panel frame, aluminum door profile or bar aluminum extrusion, please contact us.